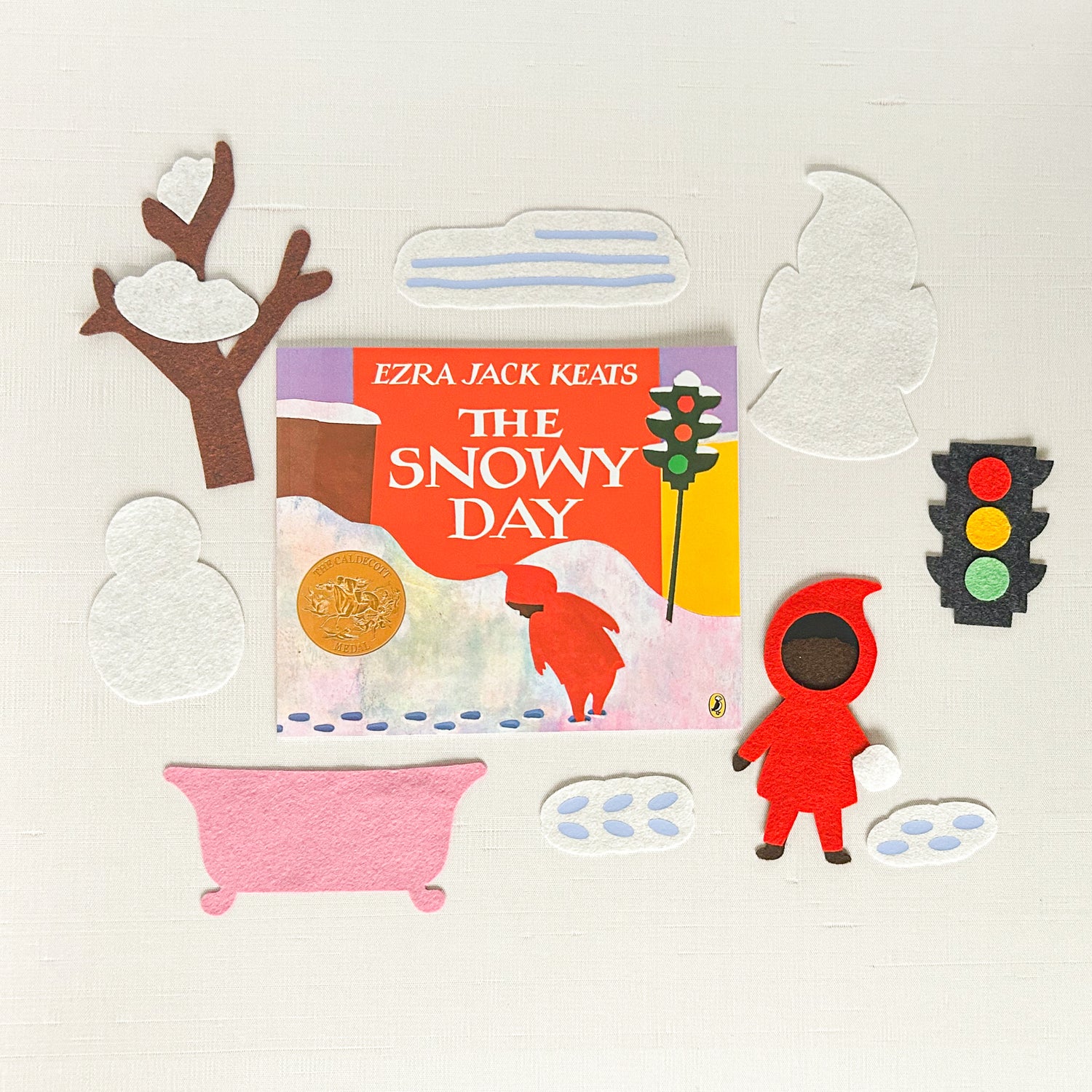 DECEMBER'S FEATURED STORY
December's Book & Felt Box features The Snowy Day by Ezra Jack Keats.

In this Caldecott Medal-winning story, we follow Peter through his small adventures in the deep snow of winter's first snowfall. This celebrated classic, along with our beautiful felt, is the perfect way to spend time on a cozy winter day!

Available NOW in the Monthly BOOK & FELT BOX!
SHOP NOW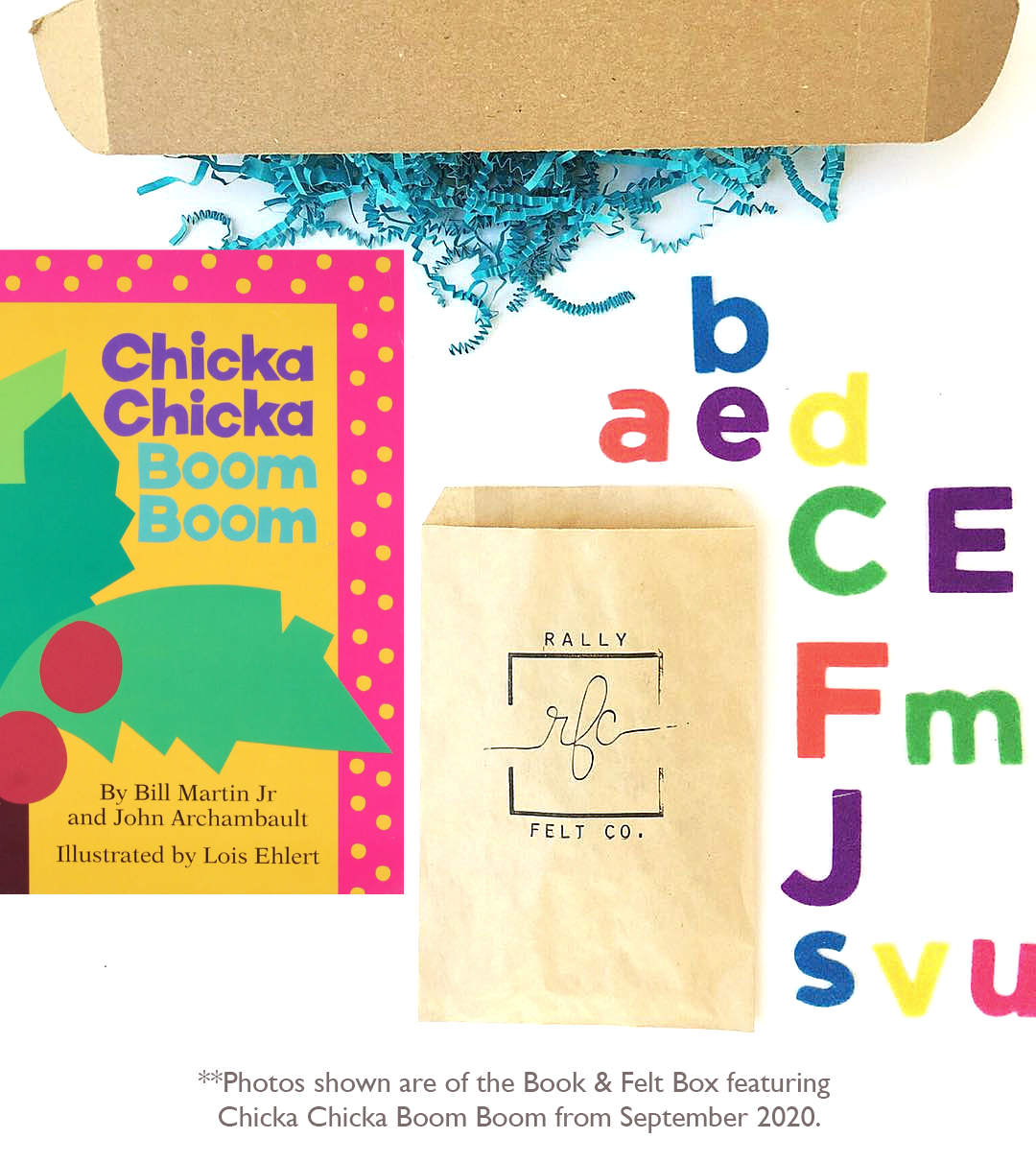 HOW IT WORKS
1. SUBSCRIBE: Subscribe to the Book & Felt Box! Make sure to grab your Rally Felt Board if you don't already have one. It is the foundation for all felt play!
2. RECEIVE YOUR GOODIES: Subscription boxes ship free in the United States! We ship out your Book & Felt boxes on the 15th of each month. If you subscribe on or after the 15th of the month, your first box will be shipped in 3-5 business days.
3. BOND WITH YOUR BABIES: Enjoy the unboxing adventure with your little one. Soak in the cuddles during reading time and watch them learn while playing with their felt.
**Photos shown are of the Book & Felt Box featuring Chicka Chicka Boom Boom from September 2020.
SIGN UP NOW
A BOND LIKE FELT
At Rally Felt Co. we aim to combine the benefit of books and the power of play.
We have created a special opportunity for those who love and spend time with children to foster learning through literature and creative play.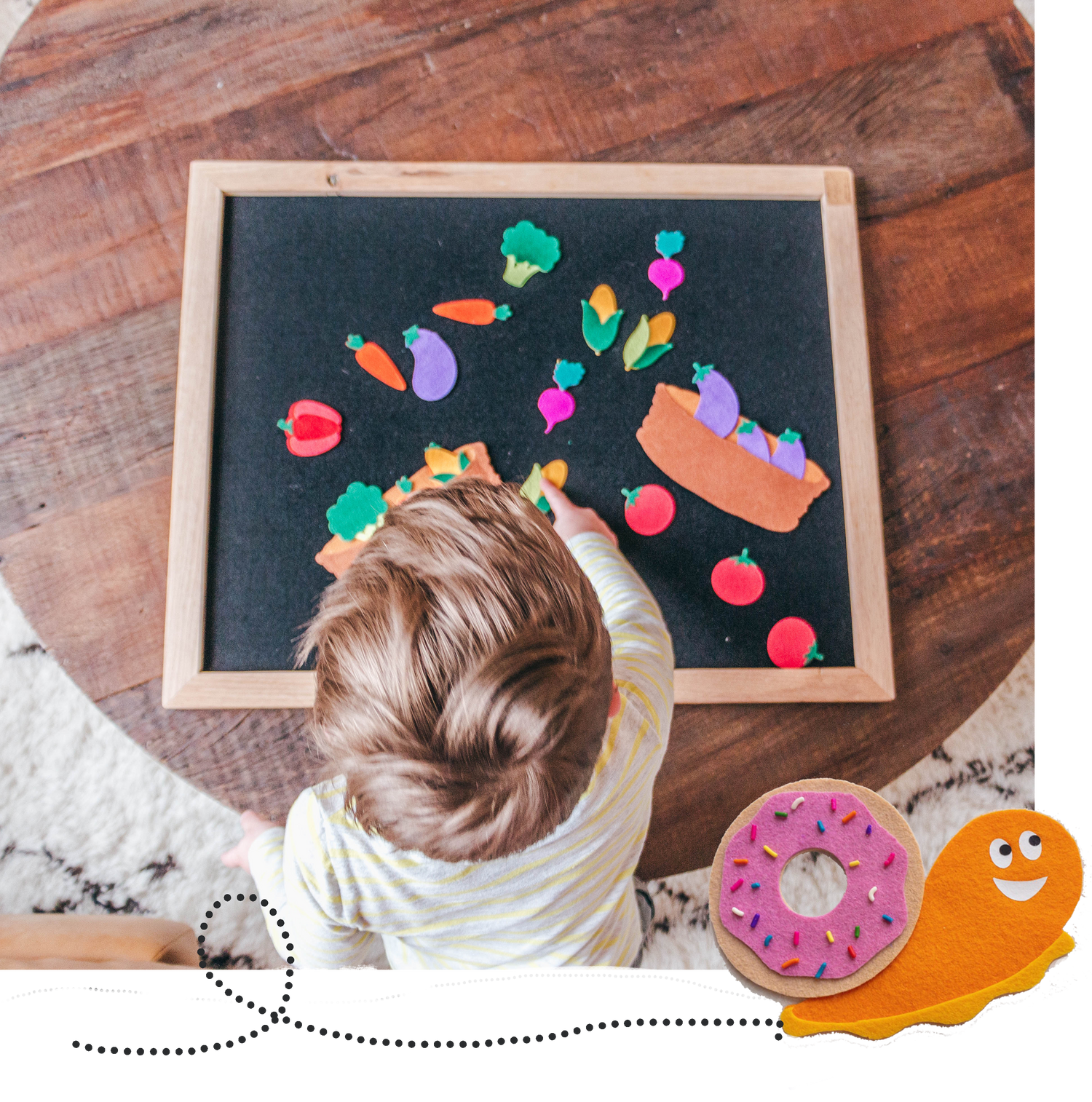 WHY FELT?
"Play gives children a chance to practice what they are learning." - Mr. Rogers
Each month we choose one of our favorite pieces of early children's literature. We then design and create a custom series of felt pieces to accompany that book. Your children will use the felt to expand their learning through story telling, problem solving, and making believe. Additionally, felt engages your child's tactile learning through texture, color, and spacial perception.
And, to be totally honest, kids are completely enchanted by the way it sticks to itself!
SUBSCRIBE NOW
A LA CARTE
Your one-stop-shop for past Book & Felt Boxes. Perfect for rounding out your collection with or without a subscription!
Heart-felt Reviews
I truly love Rally Felt Co. because it was able to give my son a way to communicate with the stories. Asher lost his hearing which made things so difficult for him. After he had his surgery it was extremely hard to get him back on track. I used Rally Felt Co. to give him a way to express how he was feeling in a fun way. I love supporting this company because she is such a hardworking single mom. I wish I could buy more but when the pandemic happened I had to slow down. I stopped working to be able to get Asher back on track and these sets truly did help him. I am very thankful I found this company.

— Caitlin W

Rally Felt Co and all of the people that put together these boxes are truly one of a kind. The products are spectacular, the uniqueness of the activities are so special, and the customer service is unparalleled. There was an issue with usps losing my package and they went above and beyond to get it to me and made sure I was a happy customer. I will always be a subscriber and I would highly recommend it to anyone. Playtime and learning should be an interactive activity (when possible) and this product allows parents to combine reading and pretend play in a fun and seamless activity. Love everything about Rally Felt Co.

— Julia F

We absolutely love Rally Felt! My 3-year-old has struggled with speech. We bought him a subscription as a Christmas gift. Little did we know just how perfect of a gift it would be! He's able to help develop his speech by taking through stories, and open ended playing with the felt. The felt is not only beautiful, but it's really durable. It matches the stories so beautifully. We love the extra story and learning suggestions that also come with our box each month. Even my 7 and 10-year-olds love playing with the felt. Unboxing day is a favorite around here and my kids count down the days until our new orders arrive. I only wish we'd heard of them sooner!

— Heather H